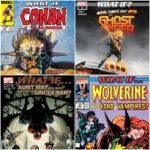 The crew have a show and tell of their favorite stories from the What If comic series, and Ed steals the show with an absurd Conan pick (00:17:32). Also, Badr shares some interesting tidbits about the upcoming Disney+ show (00:49:32), and teams-up with Cesar to review the new Suicide Squad movie (01:27:50).

Plus, recurring segments: Fistful of Comics (01:02:58) & Champion Seasons (01:22:13)

Support the show and buy some Short Box Merch!

WHAT IF picks: 
Listen to extended versions of weekly episodes, and get access to our spin-off podcast series, when you join our Patreon community.

HELPFUL LINKS:
Proudly sponsored by Gotham City Limit!
Support the show
(https://www.patreon.com/theshortbox)