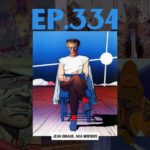 The late great, French comic artist, cartoonist, and writer: Jean Giraud, aka Moebius, is the topic of the 15th installment of our Artist Spotlight series. Cesar sets the stage with a crash course into French comics, and it's rise in popularity post WWII (00:04:34), Ashley sheds light on the role Westerns and suburban life  had on a young Moebius (00:26:34), Ed dives into his contributions to legendary sci-fi films like Jodorowsky's Dune, and Heavy Metal Magazine (00:36:18), and Badr explains the impact he had on Marvel Comics and American films (00:47:05). 

Plus, Recurring Segments: Fistful of Comics (01:12:31) &  Champion Season (01:27:11), What If Ep.1 Recap (01:37:01)

Support the show and buy some Short Box Merch!

Listen to extended versions of weekly episodes, and get access to our spin-off podcast series, when you join our Patreon community.

HELPFUL LINKS:


Proudly sponsored by Gotham City Limit!
Support the show
(https://www.patreon.com/theshortbox)