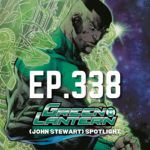 Is John Stewart the best Green Lantern? That's what we aim to answer as part of our contribution to the Justice League-themed podcast crossover event: UNITE THE SEVEN. Join us as we explore the logical creation of the character by comic legend Neal Adams,  Stewart's military ties, and how Phil Lamar's monumental portrayal of the character inspired a generation.

Plus, regular segments: Fistful of Comics (01:00:12) & Champion Season (01:13:32), and a new giveaway is announced to bring in the spoooky season (01:09:52)

Support the show and buy some Short Box Merch!

Check out the rest of the Unite The Seven event: 
HELPFUL LINKS:
Proudly sponsored by Gotham City Limit!
Support the show
(https://www.patreon.com/theshortbox)