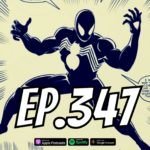 We're covering the latest comic news and pop culture headlines from the past month. Topics include: a record setting Spider-Man art piece (00:05:40), Jeff Lemiere's Image exclusive deal (00:14:41), the return of Astro City (00:20:10), Marvel's Netflix shows (00:30:14), and updates on the new Batman animated series (00:36:59). All this, and listeners react to our Star Wars episode! (00:54:02)

Plus, regular segments highlighting the best new comics (00:46:41), and pop culture recommendations worthy of your time (01:06:42)

Want to support the show? Buy some merch, and use discount code "Yoo" to save 10%. Want access to the video version of this podcast? Become a Patron!

HELPFUL LINKS:
Proudly sponsored by Gotham City Limit!
Support the show
(https://www.patreon.com/theshortbox)