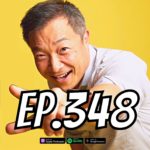 The expansive career of Jim Lee, one of the most revered and respected artists in American comics, is the topic of our latest Artist Spotlight series. We talked about how his work has personally impacted us (00:09:18), the promise he made to his parents, and his early career (00:19:04), setting a world record at Marvel, and then leaving to create his own studio (00:34:35), his meteoric rise at DC with Batman (00:55:53), and how he raised almost a $1M for charity with his sketches alone (01:14:24). And we still found time to catch up with listener emails! (01:35:37)
Plus, regular segments highlighting the best new comics (01:28:20), and entertainment recommendations worthy of your time (01:55:26)

Want to support the show? Buy some merch, and use discount code "YOO" to save 10%. Want access to the video version of this podcast? Become a Patron!

HELPFUL LINKS:
Proudly sponsored by Gotham City Limit!
Support the show
(https://www.patreon.com/theshortbox)