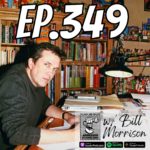 Bill Morrison, is a comic artist, the former editor-in-chief of MAD Magazine, and one of the co-founders of Bongo Comics. He joins the show this week for a comic-heavy conversation about his love of golden age Batman, working with Matt Groening on the Simpsons, the origin of Radioactive Man, run-ins with comic legends, becoming a Marvel fanboy, and recounts the time he partied with Princess Leila!
Want to support the show? Buy some merch with the discount code "YOO" to save 10%.
Want access to the video version of this podcast? Become a Patron!

HELPFUL LINKS:
Proudly sponsored by Gotham City Limit!
Support the show
(https://www.patreon.com/theshortbox)