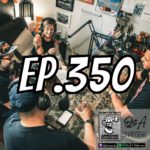 To celebrate this epic milestone (350 episodes!!), we answered your questions about our favorite comics of all time, the most treasured items in our collections, and talked about our favorite moments from the past 10 years, in this extra-sized episode. Thank you to everyone who submitted questions. We couldn't do this without you, Short Box Nation! (Q&A starts at 00:09:34)

Plus, our regular segment highlighting the best entertainment picks worthy of your time (02:00:41) 
Want to support the show? Buy some merch, and use the discount code "YOO" to save 10%. And planning to attend Bold City Con later this month? Save 10% on your tickets, using the code: "SBX10".

HELPFUL LINKS:
Proudly sponsored by Gotham City Limit!
Support the show
(https://www.patreon.com/theshortbox)