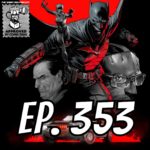 It's an all Batman episode this week, so buckle in, and SPOILER WARNING if you haven't seen The Batman yet.  We spend a lot of time recapping the movie, and talking about our favorite scenes and characters
ALSO IN THIS EPISODE:
Comic recommendations based on the movie (01:10:06)
Top 5 Batmobiles (01:13:05)
MERCH & PERKS: 
Want to support the show? Buy some merch from our store, and use the discount code "YOO" to save 10%. 
Want access to the extended, video version of this episode? Subscribe to our Patreon! 
HELPFUL LINKS:
NEXT WEEK: Comic News & Headlines!


Proudly sponsored by Gotham City Limit!
Support the show
(https://www.patreon.com/theshortbox)