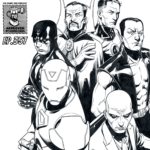 The 2006 limited series: New Avengers: Illuminati, which chronicled the earliest clandestine adventures of Marvel's secret society, gets the spotlight treatment (thanks to our Patron's pick) to celebrate their forthcoming appearance in Doctor Strange in the Multiverse of Madness (Spoiler free!)

ALSO IN THIS EPISODE:
Introduction to the Illuminati (00:05:05)
Live-action adaptation predictions (00:44:07)
Comic-picks for June (00:51:33)
Fan-mail (01:01:18)
Entertainment recommendations (01:11:47)
 SUPPORT THE SHOW: 
Want to hear these episodes the second we post them and more? Subscribe to our Patreon! 
HELPFUL LINKS:
Proudly sponsored by Gotham City Limit!
Support the show