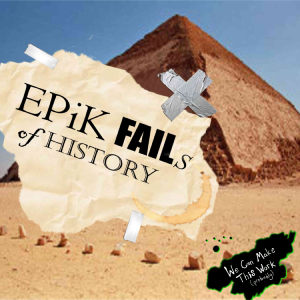 "Epik Fails of History" is a podcast that delves into the most epic fails of... history! Subscribe today on Anchor, i-Tunes / Apple Podcasts, Stitcher Radio, Podbean, You Tube, or wherever you get your favorite podcasts!
Created and edited by Erik Slader (author of the "Epic Fails" history book series), co-hosted with fellow podcaster, Chris Carroll. The podcast is an irreverent look at failures from history and what we should learn from them. (Recommended for ages 13 and up due to some mild language, occasional crude humor, as well as discussions of war, disasters, and historical facts.)
Follow / Message Us on Social Media:
Twitter: @ErikSlader @EpikFailsdotcom
Instagram: @ErikSlader @EpikFailsofHistory
E-mail: [email protected]
This podcast is a production of the We Can Make This Work (Probably) Network follow us to keep up with this show and discover our many other podcasts!