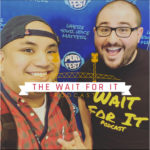 The Wait For It Podcast has reached an exciting milestone - our official 100th episode! We literally could not have gotten here with the support of each & every one of you, so from the bottom of our hearts, thank you. In order to celebrate, we put together a very special episode specifically aimed at making you laugh in these tough times. We compiled a combination of outtakes & absolutely absurd moments from the previous ninety-nine episodes & we hope you enjoy!
Buzzsprout - Let's get your podcast launched!
Start for FREE
Disclaimer: This post contains affiliate links. If you make a purchase, I may receive a commission at no extra cost to you.