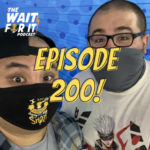 Your favorite co-hosts @MrEricAlmighty and @PhilTheFilipino get together for a very special episode to celebrate our 200th published episode. We look back at some of our favorite episodes and guests, throw in some hilarious bloopers, call each other out on our biggest pet peeves, and talk about what's next on the road to 300!

Want some more funny bloopers? Check out our 100th episode for more! You can also send us a message through SpeakPipe to possibly be featured on a future episode of The Wait For It Podcast. And don't forget to subscribe to our YouTube Page so you don't miss some of our movie reviews later this month!

🔻BACKGROUND MUSIC PROVIDED BY: Sunny Day by Free Vibes: > https://goo.gl/NkGhTg < / Download Here: > https://soundcloud.com/user-818840374... <🔺 
Instacart - Groceries delivered in as little as 1 hour.
Free delivery on your first order over $35.
Disclaimer: This post contains affiliate links. If you make a purchase, I may receive a commission at no extra cost to you.