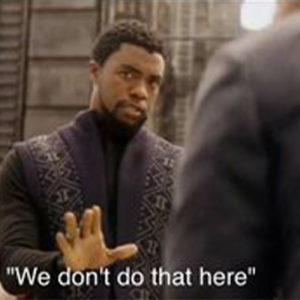 Welcome back for another week of Bobbo's Block! We have a lot to catch up on and there's a lot to go over in the update and ATN. This week, we are talking about an ugly issue that is rearing its head all over Hollywood, and how the Princess of Wakanda is involved. So, strap in and sit back for another episode packed from minute to minute. 


Time Stamps

Update-  2:15

Around The Net-  11:58

Music Break - 45:37 Noveliss - Sincerity and Reverence
https://www.youtube.com/watch?v=GN-X0ea6FaA

Nerdgasm- 48:23

Friend of the Pod of the Week:
 Lou's Podcast (10:55)
https://www.podomatic.com/podcasts/nftt101


Ahynte's Spinal Injury Recovery Fund:
https://gofund.me/44353af2


Check Out Ahynte Designs at:
https://www.ahynte.design/

Check out my last event and match there:
https://www.youtube.com/watch?v=wPnnZc4M--k


This show is AVAILABLE EVERYWHERE you can listen to podcasts. The Block is on iTunes, Stitcher, Spotify, iHeartRadio, and Deezer, Google Play, Audible and more. Give us a REVIEW to help The Block grow.


Follow me on all social media @Bobbofnn


Add our Alexa skill!
https://amzn.to/3aIhgmH


Subscribe to my Patreon at https://www.patreon.com/bobbo


I have multiple tiers to support and you can always change your monthly donations.


Subscribe to my Youtube Channel:
https://www.youtube.com/channel/UC_aVgzt6GSmEQEml99gT19g


Don't forget to come back and kick it on the block