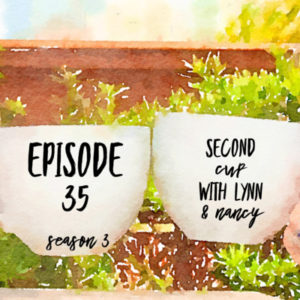 In this episode, our hosts talk about our internal response when we fail our own expectations. Lynn and Nancy admit to being more prone to self-criticism than self-compassion, and thanks to a simple self assessment by Dr. Kristin Neff, they went searching for a better path. "Instead of mercilessly judging and criticizing yourself for various inadequacies or shortcomings, self-compassion means you are kind and understanding when confronted with personal failings – after all, who ever said you were supposed to be perfect?" (excerpt from self-compassion.org)
So, how do we move on from disappointments and reset expectations that are realistic? The hosts found one answer in the title of a recent New York Times best seller by a favorite author, Shauna Niequist, "I Guess I Haven't Learned That Yet!" She writes, "I am old enough to have learned a few things that sustain us when the night is long, the sky dark, the journey rough, and I'm offering them to you." Nancy reports so many nuggets in Shauna's stories that she returned the library's copy and purchased her own so the highlighter ink is flowing!
Included in the discussion is how we manage the tension of self-acceptance with the need to continue pursuing growth and development. Lynn shared this quote from another author, Joyce Meyer, "We must develop the kind of mature love that says, "I know I need to change, and I want to change. In fact, I believe God is changing me daily, but during this process, I will not reject what God accepts. I'll accept myself as I am right now, knowing that I will not always remain this way."
Other articles found helpful by our co-hosts include:
Harvard Business Review: Give Yourself a Break
Harvard Health: 4 Ways to Boost Self Compassion
Harvard Business Review: Connect with Empathy but Lead with Compassion
Harvard Business Review: What does self-compassion really mean?