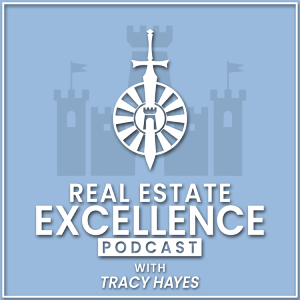 Part of the beauty of the real estate industry is that anyone, regardless of their background, can come in and find enormous success if they work smart and hard. Erica Harding is one of the living proofs of this, as she found her passion as a realtor after having been a journalist for years.
Erica Harding graduated as a journalist at the University of North Florida and worked at the MIT magazine for over six years before she decided that she wanted more from life and began to explore her talents as a salesperson.  Fast forward to now, and she's one of the top-performing agents at Engel and Völkers and was able to build a successful career while raising two kids. 
Join us to listen to Erica's amazing journey to real estate success and learn the secrets that brought her there.
[00:00 - 07:03] From Journalist to Top Realtor: Erica Harding Shares Her Journey
• She graduated from Mandarin High and went to the University of North Florida as a journalism major.
• She worked for MIT Magazine for over six years and was inspired by the salespeople coming in and out of the office every day, so she asked for an opportunity to work on sales.
• Despite having no sales experience, she was given the chance and put in the St. Johns County area.
[07:03 - 13:13] Finding the Right Brokerage, Training, and Growing Toward Success 
• Erica learned about different businesses, business owners, and what works for them through formal sales training.
• She hated roleplaying and learning scripts, but this was very valuable in her training as a salesperson. 
• Erica transitioned from Mid Magazine to residential real estate after becoming a mom.
• She joined Keller Williams's South Side for five years due to its great training and structure.
[13:13 - 19:33] Becoming the Best Agent Through Keller Williams's Bold Program
• Training offered at Keller Williams was amazing, according to Erica. 
• Agents are encouraged to take advantage of other agents' open houses.
• Why posting on social media every day is important to stay top of mind.
• Doing the Bold program was life-changing for new agents, including Erica herself. 
• Education and listening to other top agents are important, as you need to eat and breathe real estate in order to succeed as a realtor. 
[19:34 - 25:50] Juggling Time and Staying Confident: Navigating the First Year in Real Estate
• Time blocking is important for maximizing free time.
• Erica takes advantage of mornings when the kids are eating to get some work done. 
• Scheduling emails out late at night to be sent in the morning makes your clients feel like you're right on top of the work.
[25:50 - 32:02] Overcoming Time Management Challenges as a Real Estate Agent with Kids
• Even small things like using email templates and voice text to save time can add up.
• Being part of the community and letting everyone know you're in real estate can lead to higher sales.
• Time management is the hardest part of real estate, especially, but there are various techniques and tools to improve it.
[32:02 - 38:19] The Secret Sauce: Control Your Transaction and Know Your Team
• Why it's important to have your priorities straight and not to lose focus looking at what others are doing.
• Having a supportive partner helps in tough moments when one cannot be present.
• Having control over your transaction will make it go smoothly, keeping clients happy and yourself at minimum stress. 
• As soon as a contract is signed, it is important to order the home inspection and loan application and reach out to insurance.
• A timeline sheet should be sent out with recommendations for each vendor.
[38:20 - 45:07] The Key to Real Estate Success: Networking With Other Agents
• Networking with other agents to share information and build relationships is extremely important to grow as a realtor, as well as having contacts in all fields of real estate.
• Posting on social media to gain notoriety will help you grow and earn more deals.
• Texting other agents to ask for inventory updates can be a good way to stay organized.
• Going to events like Breakfast of Champions at Landmark to meet other agents can help you grow your career.
[45:07 - 51:13] Erica Harding's 3 Tips For Real Estate Success
• Erica shares her 3 tips for real estate success:
Real estate requires full-time commitment and dedication.

Tune out negativity and be strong enough not to let it affect you.

Take advantage of your niche market and be proud without being too much.
• Be aware of the challenges in real estate, such as inventory.
• Use social media to your advantage by posting and commenting on posts.
[51:13 - 57:51] Leveraging Social Media and Other Keys For Real Estate Success
• Erica Harding continues to share some of her tips to succeed as an agent: 
• Join a brokerage with training and support,
• Post on Instagram or any social media platform about real estate, making you look successful even if you're not yet. 
• Host an open house even when you're not busy.
• Infiltrate yourself in the business
• Call associates, friends, and family about your real estate business
• Erica talks about how living in the moment has been important for her success. 
• Live in the moment and post content later.
[57:51 - 01:04:08] The Importance of Video and Finding a Brokerage
• Videos are a great way to create something and get people's attention.
• YouTube is more of a searchable mechanism than Instagram and Facebook.
• Collaborating with other accounts on Instagram only works from the phone, whereas YouTube allows you to do it from a PC.
• Erica changed brokerages to Engel and Völkers after being approached by another agent and preferred what they offered her.
[01:04:08 - 01:10:18] "The Journey to Becoming a Luxury Agent with Engel and Völkers 
• Engel and Völkers offer in-house marketing, transaction coordination, and concierge service.
• Kristen Mahon's webinar helped Erica understand the next level of real estate, which was luxury housing.
• According to Erica, Luxury is a service, not a price point, meaning that you're giving a high-quality premium service to clients who can afford it. 
[01:10:18 - 01:16:19] Importance of Taking Time Off and Not Being the Highest Achiever
• Erica talks about how she learned that it's ok not to do all the things and be all the places.
• She realized that it's ok if someone else is doing more deals than you as long as you have your priorities clear.
• It's important to be where you want to be and still strive for improvement every day.
[16:19 - 22:18] Staying Focused on Your Goals
• Erica recommends that you focus on your own personal goals and career.
• Social media allows you to build rapport with people without even knowing or trying.
• Real estate market conditions: layoffs in other parts of the country, high-interest rates, and local moves not happening might be scary, but you should keep working despite them.
• Honing in on new construction for more attainable options can be an alternative in this landscape.
Quotes:
"If you're going to do this full-time, you really need to be listening to other top agents. You need to be educating yourself on the market and on just how businesses run these days." - Erica Harding
"If you want to succeed as a realtor, you need to live, breathe, and eat real estate." - Erica Harding
"The secret sauce is you. You're the secret sauce. So do everything that you can do that is your personality that makes sense for your life and your timeline and where you're at." - Erica Harding
"Get rid of all of the negativity and work on tuning out your limiting beliefs. Success can seem unattainable  when you're a beginning, but you will reach it if you remain consistent." - Erica Harding
Get in contact with Erica Harding, keep up with her projects and endeavors, and make her a part of your network, by following her on social media:
Instagram: https://www.instagram.com/ericahardingrealtor/
Facebook: https://www.facebook.com/ericahardingrealestate
LinkedIn: https://www.linkedin.com/in/ericaharding/
If you want to build your business and become more discoverable online, Streamlined Media has you covered. Check out how they can help you build an evergreen revenue generator all 
powered by content creation!
SUBSCRIBE & LEAVE A 5-STAR REVIEW as we discuss real estate excellence with the best of the best.