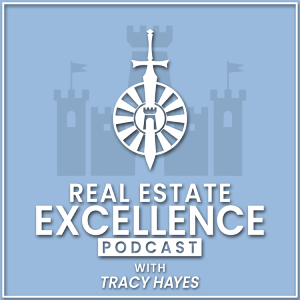 Everyone knows that marketing can make or break a business, but few people know how to market themselves properly or even what successful marketing truly means. Erin Salem is joining the Real Estate Excellence podcast today to share the secrets of real estate marketing that have led her clients to success.
Erin graduated from Rollins College in Orlando in 2002 with a Theater Arts degree. Working with young artists, she realized that many of them were talented, but few knew how to do a business out of their talent. Realizing the importance of having systems and creating brands with personality, Erin became a successful copywriter and adviser for various emerging businesses that rose to success thanks to her knowledge. Eventually, she ended up in the real estate industry, where she helped agents showcase their personalities to create meaningful marketing content.
Tune in to this episode of Real Estate Excellence to learn about Erin's journey and how to apply her secrets to your own real estate career.
[00:00 - 07:03] Insights on Real Estate Marketing and Business Expansion
• Erin Salem is the Director of Sales and Marketing at Roundtable Realty and educates agents on effective marketing techniques.
• Erin has given herself titles such as joy-ologist and chief of happiness, and she tries to project that energy unto her clients. 
• Salem's experience in building a children's theater taught her the importance of relationship-building in marketing.
[07:03 - 13:54] How Relationship Building and Authentic Writing Became Key Skills
• Relationship building is key in marketing; people want to feel known, seen, and like they belong.
• Erin learned the value of getting to know clients and creating relationships while working in the public school system.
• She started freelancing as a virtual assistant and eventually evolved into helping businesses with their culture and communication.
• She also teaches people how to represent themselves authentically through their writing.
[13:54 - 20:59] Helping Entrepreneurs and Real Estate Agents Build Authentic Brands
• Beginning her career, Erin helped businesses and people write blogs, blurbs, and books in an authentic way.
• She believes in doing things with clients rather than for them to help them grow and learn their own business at a deeper level
• Succesful marketing begins with systems that help build a foundation for business and brands.
• Systems can't be the same for every person, especially for entrepreneurial-minded folks who are tangential thinkers
[20:59 - 27:50] Individuality and Systems in Real Estate Industry
• Consistency is key in finding a prospecting niche that works for you.
• Coaching and guidance from a broker who understands individual personalities and values is invaluable.
• Finding your own niche and bringing value to the table is crucial for success as a real estate agent.
• Thinking outside the box can lead to unique and successful marketing strategies.
[27:50 - 34:52] Personal Branding and Relationships Over Brokerage Branding
• Personal brand and relationships are key to success in real estate.
• Brand consistency is more than colors and fonts. It's about personality.
• New agents in Erin's brokerage undergo a comprehensive training program, including creating a personal logo and marketing materials.
• Each agent has a personalized bio that includes non-professional interests and hobbies.
[34:53 - 41:49] The Importance of Personalizing Marketing Materials
• Eron focuses on getting to know the agent's background and goals to tailor the marketing approach.
• She starts by creating a logo and intro video that reflects the agent's personality.
• She entices agents to be themselves on camera for better results.
[41:49 - 48:38] Discovering Authenticity and Finding a Marketing Path
• It's important to reflect back to agents who they are and how they come across to others.
• Erin educates agents on social media strategies based on their personalities and the platform used.
• She brings forth an example of a new agent who initially didn't want to do video, but eventually tried it and improved with guidance.
[48:38 - 01:01:46] The Importance of Video Content in Building Relationships
• Getting in front of a camera can be challenging.
• Practice makes perfect. Aim to improve with each video.
• Professional videos are important, but personal content is also valuable.
• Showcasing your personality on social media helps build relationships and trust.
• People want to see the person behind the business, not just the product or service.
[01:01:46 - 01:08:01] Video Marketing to Connect with Clients and Boost Sales
• Agents can create market statistic videos from a home office.
• YouTube and LinkedIn are great for searchability and not paid-to-play.
• Tagging and SEO language are very important for YouTube videos.
• Quick intro video helps clients connect with agents before meeting.
[01:08:01 - 01:20:44] Maximizing Your Real Estate Brand on Multiple Platforms 
• Erin and Tracy discuss overcoming the mindset of not wanting to bother people in your sphere of influence.
• Erin emphasizes the importance of consistent marketing and branding as a real estate agent
• She encourages agents to wear their "realtor costume" and use branded items to promote themselves.
• She also advises agents to practice conversing about real estate with friends and family to build confidence.
[01:20:44 - 01:27:21] Using AI In Marketing
• AI is already being used in many real estates tools like Zillow and List Reports
• Chat GPT can help with writer's block and generating ideas for videos or emails.
• However, it should not replace the authenticity and relationships that realtors build with their clients.
• Chat GPT may have limitations and inaccuracies, so it's important to double-check information before using it.
[01:27:21 - 01:30:31] Self-Discovery and Marketing in Building a Successful Business
• Marketing as the linchpin for success in real estate.
• Importance of understanding oneself and finding what works for individual success.
• Invitation to join the community at tracyhayespodcast.com.
Quotes:
"Marketing is relationship building." - Erin Salem
" People want to feel known, seen, and like they belong. Your job when you're building a relationship with them in any business is to give them those three things." - Erin Salem
"A business is two things. The business itself and the brand. You have to have both. But if you don't have the systems in place to run your business, the brand doesn't matter that much." - Erin Salem
"Our brand is built on people before property. And every single decision we make in our brokerage starts with those words." - Erin Salem
If you want to make contact with Erin Salem and make her a part of your network, make sure to visit and follow her on LinkedIn, Instagram, and Facebook:
LinkedIn: https://www.linkedin.com/in/erin-salem-29aa3b14/ Instagram: https://www.instagram.com/erinsalem Facebook: https://www.facebook.com/RoundTableRealty 
If you want to build your business and become more discoverable online, Streamlined Media has you covered. Check out how they can help you build an evergreen revenue generator all 
powered by content creation!
SUBSCRIBE & LEAVE A 5-STAR REVIEW as we discuss real estate excellence with the best of the best.