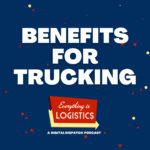 Offering benefits in the trucking industry is usually reserved for big companies. But Zach Swartzendruber is aiming to change that with his family-run operation, Benefits for Trucking. 
No matter if you're a single person LLC or a small fleet, Zach has spent the better part of his life making sure that you have access to health benefits. In this episode, Zach is breaking down all the things that businesses and self-employed folks need to know before they start exploring the world of health benefits. 
Everything is Logistics is hosted by Blythe Brumleve, founder of Digital Dispatch where we help freight companies get online and grow. Check out our top shows to fix your website and fix your marketing. Alternatively, you can search by topic and check out all our past episodes of the podcast—right on our website.
I'd like to introduce you to Zach Swartzendruber, President at Benefits for Trucking: https://www.benefitsfortrucking.com/
They have some amazing offerings for owner operators and small fleets.
https://hello.dubsado.com:443/public/form/view/62d87c8d6df5a93317e1c1dc
-----------------------------------------------

THANK YOU TO OUR SPONSORS!

At SPI Logistics they have industry-leading technology, systems, and back-office support to help you succeed. Learn more about SPI's freight agent program here. Make sure to let them know we sent you!
-----------------------------------------------

ABOUT THE PODCAST:

Everything is Logistics is a podcast for the thinkers in freight. Subscribe to our newsletter to never miss an episode.

Follow EIL host Blythe Brumleve on social: Twitter | LinkedIn| Instagram| TikTok| YouTube