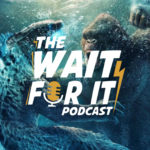 @PhilTheFilipino & @MrEricAlmighty are back to discuss the finale of the Monsterverse that began all the way back in 2014 with Godzilla! If you don't remember, the guys weren't very receptive of Godzilla: King of the Monsters back in 2019, so expectations were tempered heading in. What did we think of this monster showdown? We got you covered with a full, spoiler free review of Godzilla vs Kong!

Check out the Wait For It Podcast YouTube Page: The Wait For It Podcast

🔻[*AFFILIATE LINK BELOW*] - Depending on your streaming app, links may be distorted in text. If so, you can find this episode on our main site at > waitforitpodcast.buzzsprout.com <🔺

🔻Want to skip the lines for your next grocery trip? Use our referral link for Instacart to get free delivery on your first order over $35 and to support our show: > https://instacart.oloiyb.net/emZ9O <🔺

🔻BACKGROUND MUSIC PROVIDED BY:
Ocean by KV https://youtube.com/c/KVmusicprod​
Creative Commons — Attribution 3.0 Unported  — CC BY 3.0
Free Download / Stream: http://bit.ly/2OCvpHU​
Music promoted by Audio Library https://youtu.be/a8ctDtA7OK8
🔺
Instacart - Groceries delivered in as little as 1 hour.
Free delivery on your first order over $35.
Disclaimer: This post contains affiliate links. If you make a purchase, I may receive a commission at no extra cost to you.