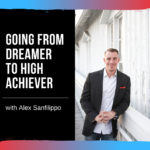 If you want to turn your dreams into reality, you must become a high achiever.

We all have dreams that we'd like to see come to pass in our lives. However, dreams without goals are simply dreams. Dreams don't come to pass without self-discipline and taking action.
Action is what it takes to begin going from dreamer to a high achiever.
In this episode of the Creating a Brand Podcast, co-host Amy West interviews the founder of CreatingaBrand.com, Alex Sanfilippo. Alex is also the primary host of the Creating a Brand podcast to talk about what role being a high achiever has played in his life, leading him to where he is today.
In this episode, Alex Sanfilippo shares about setting and achieving goals, time management, creating routines in your life, and how to live a more successful life. It's a packed episode where Alex Sanfilippo shares his heart!
Ultimately, this episode is going to help you go from dreamer to high achiever which in turn will allow you to live a more fulfilled life.
For full show notes visit creatingabrandpodcast.com