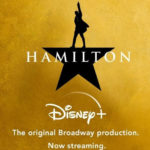 Happy 4th of July! @MrEricAlmighty and @PhilTheFilipino are coming at you this holiday weekend with a special BONUS episode, where we discuss our thoughts on the Disney+ debut of the hit Broadway musical - Hamilton! Having only heard the musical (and seen the infamous bootleg version), we talk through our emotions of finally seeing Hamilton for the first time, and highlight our favorite parts throughout. We picked our podcast name because of our mutual love of Hamilton, and we hope you enjoy this episode as much as we enjoyed recording it!

🔻[*AFFILIATE LINK BELOW*] - Depending on your streaming app, link may be distorted in text. If so, you can find this episode on our main site at waitforitpodcast.buzzsprout.com.🔺

🔻This episode was recorded on SquadCast - if you need somewhere to record, consider using our referral link: https://squadcast.fm/?ref=waitforitpod.🔺

🔻BACKGROUND MUSIC PROVIDED BY:
Amelia by Amine Maxwell https://soundcloud.com/aminemaxwell
Creative Commons — Attribution 3.0 Unported — CC BY 3.0
Free Download / Stream: https://bit.ly/amine-maxwell-amelia
Music promoted by Audio Library https://youtu.be/wqNpI4vNuyk🔺

Disclaimer: This post contains affiliate links. If you make a purchase, I may receive a commission at no extra cost to you.