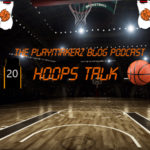 A couple of winning streaks have ended. The Play-In Tournament is getting tighter. The New York Knicks and Atlanta Hawks continue to look like threats in the playoffs. Position battle in the West is getting heated. Steph Curry is still on a crazy month of April with two more games to go.
Recap of this past weekend's action. Preview this week's NBA action.
Subscribe and follow the podcast on your favorite streaming platforms. Leave a rate & review on iTunes/Apple Podcast.
Follow The Playmakerz Blog on social media (Facebook, Twitter, and Instagram)
Follow The Playmaker on social media (Facebook, Twitter, and Instagram)
--- Send in a voice message: https://anchor.fm/theplaymakerzblog/message