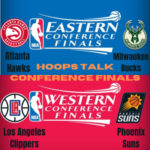 One half of the NBA Finals was determined last night. Congratulations to the Western Conference Champions, The Phoenix Suns. Finishing off the Los Angeles Clippers in Game 6. The first Finals appearance since 1993.
The Eastern Conference Finals is tied 2-2 going into Game 5 tonight. No Giannis Antetokoumnpo for the Milwaukee Bucks with the hyperextension in his knee. The status of Trae Young is up in the air for the Atlanta Hawks with the deep bone bruise in the ankle. In a pivotal Game 5, the will of one team will show and put them one game away from the Finals.
Subscribe and follow the podcast on your favorite streaming platforms. Leave a rate & review on iTunes/Apple Podcast.
Follow The Playmakerz Blog on social media (Facebook, Twitter, and Instagram) & our Website for all our other podcasts.
Follow The Playmaker on social media (Facebook, Twitter, and Instagram)
--- Send in a voice message: https://anchor.fm/theplaymakerzblog/message