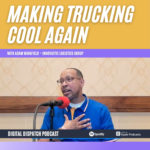 In this episode, we're chatting with former driver and now owner of Innovative Logistics Group Adam Wingfield on the challenges of the perceived "driver shortage". Adam breaks down how trucking has an image problem and the coolest aspects of the job aren't being talked about enough. He drops a lot of gems in this convo so I hope you all enjoy it as much as I did. 
~~~~~~~~~~~~~~~~~~~~~~~~~~~
Where to Find Digital Dispatch & Blythe:  

Got something to say?
Have a topic you'd like to see covered? Or a guest you want to hear on the show? Fill out the tip submission form on the Digital Dispatch website.
-----------------------------------------------

THANK YOU TO OUR SPONSORS!

At SPI Logistics they have industry-leading technology, systems, and back-office support to help you succeed. Learn more about SPI's freight agent program here. Make sure to let them know we sent you!
-----------------------------------------------

ABOUT THE PODCAST:

Everything is Logistics is a podcast for the thinkers in freight. Subscribe to our newsletter to never miss an episode.

Follow EIL host Blythe Brumleve on social: Twitter | LinkedIn| Instagram| TikTok| YouTube