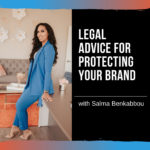 Many entrepreneurs skip setting up the legal side of their businesses which is a huge mistake. Here's how to protect your brand from a legal perspective!
How to Protect Your Brand – Legal Advice from Business Lawyer Salma Benkabbou
How much time have you spent focus on the legal side of your brand? Most people answer the same way, not much or not at all. I speak from experience; this can cause serious problems for you in the future if you don't start off on the right foot from a legal perspective.
If you want to learn how to protect your brand, this episode is for you! Salma answered a list of questions that many of us have when creating our brands. Here's a list of some of the questions that Salma and Alex covered.
When should someone begin focusing on legal aspects of running a business?
What if they are planning on creating a product but are just getting started?
How about when someone is just doing a personal blog, any recommendations for them?
What if someone's business starts taking off and they are hiring a stuff, what should they do?
How much should someone be paying for legal services?
Can someone draft legal documents themselves?
What about these online services the create legal documentation for you that's really cheap?
No matter what you're doing, start with a business plan. It's important for your focus, and the legal side of running your business.
For show notes and resources, visit: https://creatingabrand.com/how-to-protect-your-brand-legal-advice-from-business-lawyer-salma-benkabbou