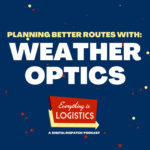 In this episode, we have invited Scott Pecoriello, founder and CEO of WeatherOptics, a weather intelligence company founded on the premise that weather forecasts alone do not give value but impact forecasts that influence decision-making. He has led the initiative to integrate consumer, corporate, utility, and weather data to rethink how WeatherOptics can improve business perspectives on the weather. 

In today's episode, Scott discusses how you can use their platform to improve logistics and transform how organizations think about and react to the weather.


Weather Optics
[0:24]
WeatherOptics is a weather intelligence firm that provides weather forecasts to supply chain and logistics organizations. They combine meteorological data with supply chain data to produce insights that allow logistics teams to take control of their operations before disruptive weather strikes.


How Scott Started
[1:34]
Scott has always been captivated by the weather and new business ventures. During his college years, his interest in weather led him to discover an industry where many people were affected but had no control over how to deal with the weather.


Weather Conditions With Transportation 
[2:24]
WeatherOptics use weather computer predicting models that are adjusted and optimized for accuracy, which is critical because it affects pricing points and anticipated ETA for shipments. Scott and his team typically concentrate on larger-scale catastrophes, such as hurricanes and snowstorms, and their effects on warehouse facilities, supply chain management, and logistics.


Who is WeatherOptics For
[7:44]
Weather optics' key clients include shippers, carriers, and asset space. When shipping food or critical commodities across the country or the globe, it is critical to track whether or not delays are likely, the best or fastest route for logistics to take, the temperature threshold index, and keep them in check. 
[9:42]
WeatherOptics primarily serves clients in North America and Europe. On the other hand, Scott is ecstatic with his recent endeavor to produce and deliver global data.


Capturing Weather Data
[11:44]
Scott collects weather data using various technologies, including dashboards and space-based weather monitors.


You can check out Scott on https://www.weatheroptics.co/ or follow him directly on his socials:
-----------------------------------------------

THANK YOU TO OUR SPONSORS!

At SPI Logistics they have industry-leading technology, systems, and back-office support to help you succeed. Learn more about SPI's freight agent program here. Make sure to let them know we sent you!
-----------------------------------------------

ABOUT THE PODCAST:

Everything is Logistics is a podcast for the thinkers in freight. Subscribe to our newsletter to never miss an episode.

Follow EIL host Blythe Brumleve on social: Twitter | LinkedIn| Instagram| TikTok| YouTube