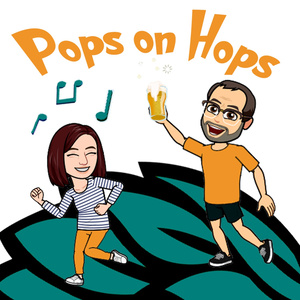 Barry and Abigail discuss Hindu Love Gods by Hindu Love Gods and sample Porch Pineapple, ...and There's Your BFF, Enough Space - Collab With Hilton Head Island Coffee Roasters, and Rocket Emoji from Side Hustle Beer Company in Hilton Head, South Carolina.
Hindu Love Gods was a side project of Bill Berry, Peter Buck, and Mike Mills of R.E.M. with Warren Zevon (whose most famous song is Werewolves of London).
This album contains a cover of Battleship Chains, a song written by Terry Anderson for The Woodpeckers. We covered this story in detail during our interview with Jack Cornell, Friendship Wins (Jack Cornell and Tripping Animals Brewing). The Woods' recording of Battleship Chains is not available on the internet, but The Georgia Satellites' recording is.
Bill Berry's first musical group since R.E.M., The Bad Ends, recently released a single (All Your Friends Are Dying) ahead of their debut album to be released in January.
The only two other Hindu Love Gods songs available are Gonna Have a Good Time Tonight and Narrator, the latter of which was written by Bill Berry.
Up next… Songs About Jane by Maroon 5
Jingles are by our friend Pete Coe.
Follow Barry or Abigail on Untappd to see what we're drinking when we're not on mic!
Facebook | Instagram | Twitter | YouTube | Website | Email us | Virtual Jukebox
--- Send in a voice message: https://podcasters.spotify.com/pod/show/pops-on-hops-podcast/message