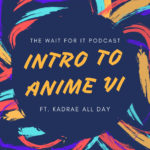 @MrEricAlmighty joins forces with Kadrae (AKA @kadraeallday on TikTok and Instagram) to discuss where our individual journeys into watching anime started, how that has evolved over the years, and we give you several of our favorite anime series that you should be adding to your watch-list (and some you may want to avoid)!

🔻[*AFFILIATE LINKS BELOW*] - Depending on your streaming app, links may be distorted in text. If so, you can find this episode on our main site at > waitforitpodcast.buzzsprout.com <🔺

🔻Want to skip the lines for your next grocery trip? Use our referral link for Instacart to get free delivery on your first order over $35 and to support our show: > https://instacart.oloiyb.net/emZ9O <🔺

🔻BACKGROUND MUSIC PROVIDED BY:
Amelia by Amine Maxwell > https://soundcloud.com/aminemaxwell <
Creative Commons — Attribution 3.0 Unported — CC BY 3.0
Free Download / Stream: > https://bit.ly/amine-maxwell-amelia <
Music promoted by Audio Library > https://youtu.be/wqNpI4vNuyk <🔺
Instacart - Groceries delivered in as little as 1 hour.
Free delivery on your first order over $35.
Disclaimer: This post contains affiliate links. If you make a purchase, I may receive a commission at no extra cost to you.