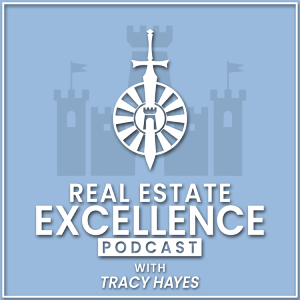 Finding your niche is essential to succeed in the real estate market. Lara Yehl and Joy Doyle, the two military wives and entrepreneurs who founded Hover Girl Properties, succeeded by finding that niche in military relocations and now run an incredibly successful company that makes amazing contributions to their community.
Hover Girl Properties is a full-service real estate firm with a focus on military relocation. They have grown exponentially and now have over 15 full-time realtors and a full office staff managing a portfolio of 400 monthly properties. In 2021, they closed over $108 million in sales. They specialize in buying, selling, and property management and are eager to serve anyone in the Jacksonville area who needs their services.
Tune in to this episode of Real Estate Excellence to listen to this success story and learn how Lara and Joy grew by finding the right niche.
[00:00 - 07:41] Owners of Hover Girl Properties Share Their Real Estate Journey 
• Hover Girl Properties focuses on military relocation and manages rental properties.
• Lara Yehl and Joy Doyle have over 30 years of experience in the Jacksonville area
• Lara grew up in Hollywood, Florida, and worked for Piedmont Airlines before Navy life
• Joy was born in Mobile, Alabama, and spent her youth in Park City, Utah.
[07:41 - 14:48] A Military Spouse's Journey and 30-Year Marriage
• Joy and a friend of hers called Wendy, both married men they met the same day in 1985, who were retired military officers.
• She traveled a lot due to her husband's military career and worked various jobs while moving around, including teaching English in Japan and working for airlines.
• She felt empowered by successfully raising her children overseas and thriving in new environments.
[14:48 - 21:33] Military Wives Start a Property Management Company
• Military life was challenging with young children and frequent moves.
• Families had to figure things out on their own when their spouses were deployed, or ships left without them.
• Lara did not leave the country with her kids but frequently moved within the US due to her husband's military career.
• Hover Girls was born out of the 2008 housing market crash and a need for property management services for military families who were underwater on their mortgages.
[21:33 - 28:43] Navigating the Real Estate Market with a Focus on Military Families
• Word of mouth helped grow the Hover Girl business organically.
• The company's portfolio is currently between 300 and 400 units.
• They do both property management and sales.
• Having both rental and sales businesses provides security and flexibility.
[28:43 - 42:25] Hover Girls Real Estate Builds Strong Family Environment for Success
• The importance of asking about a realtor's experience and training when hiring them.
• Hover Girl Properties has grown organically with a focus on family-like cohesiveness.
• Leslie, Laura's sister, played a key role in setting up the administrative side of the business.
• The company has had agents come and go, but those who stay are bought into the ideology.
• The company values having each other's backs and stepping up to help one another.
[42:25 - 50:13] The Importance of Giving Back to the Community
• Joy believes in helping others without expecting anything in return.
• She shares examples of providing school supplies and COVID-related items to military personnel.
• Money can't make you happy unless you give enough away
• Joy also offers education and support for families relocating.
[50:13 - 01:04:00] Real Estate and the Challenges of Relocation
• Joy and Lara offer advice for people planning to relocate.
•  Don't buy a house if you are uncertain about staying
• Financial and emotional challenges for families during relocation can be difficult.
• Joy and Lara connect families with resources such as school advocates and job opportunities.
• Hover Girl Properties values quality over quantity regarding agents and does not actively recruit.
[01:04:00 - 01:11:01] Work-life Balance and Support for Agents
• Hover Girl manages rental properties for agents, allowing them to focus on earning more business.
• They do not charge extra fees and only make money when the agent makes money.
• They provide leads but also expect agents to actively seek out their own.
• They have put systems in place to handle emergencies and limit work outside of regular hours
[01:11:01 - 01:17:58] The Importance of Education and Retention in Team Building
• Joy and Lara strengthen their team through regular one-on-one meetings and retreats for feedback and training.
• Advice for potential real estate agents:
•  Have a plan B.
• Expect no income in the first year.
• Surround yourself with like-minded people.
• Retention is key to success, the unique mindset at Hover Girl Properties
[01:17:58 - 01:24:48] How Employees Leave and How to Retain Them 
• Joy and Lara believe in the importance of leaving a job gracefully and maturely.
• Retaining good employees is important, but ultimately it's up to the individual to decide whether to stay or leave.
• Joy and her team prioritize open communication and caring for their employees.
• They are willing to share their knowledge and experience with anyone looking to start their own brokerage.
Quotes:
"Our cohesiveness is really built on, and not just blood, family blood, but the family environment." - Joy Doyle
"When there is a need and something that we can fulfill, we wanna be the first in line." - Joy Doyle
"If you think the grass is greener somewhere else, I encourage you to go right on over there because I know that if you just water your own grass, you will succeed." -Lara Yehl
Make sure to visit the Hover Girl Properties website, make contact with Joy and Lara and get the opportunity to make them a part of your network:
https://hovergirlproperties.com/
If you want to build your business and become more discoverable online, Streamlined Media has you covered. Check out how they can help you build an evergreen revenue generator all 
powered by content creation!
SUBSCRIBE & LEAVE A 5-STAR REVIEW as we discuss real estate excellence with the best of the best.