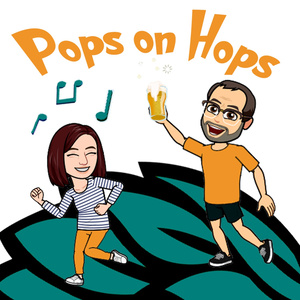 Barry, Abigail, and guest Jeff "Jafo" Shettler discuss Jeff's Jukebox submission, Wish You Were Here by Pink Floyd. We also sample Green Tea IPA and Creatures of Habit from brewLAB in Carpinteria, California, as well as two of Jafo's own homebrew creations, Haze Phazer and Hazy 8.
brewLAB recommended pairing their beer with music from Skinshape. We listened to I Didn't Know while tasting.
Pink Floyd recently released Hey Hey Rise Up, featuring Andriy Khlyvnyuk of Ukrainian band BoomBox. The vocals are lifted from a viral video of Khlyvnyuk singing Oh, the Red Viburnum in the Meadow, a Ukrainian patriotic march written in 1914. Proceeds from the single support the Ukraine Humanitarian Fund.
Barry and Jafo met as coworkers working for James Cameron and his brother Dave on "everything between Titanic and Avatar." Barry and then-Captain Jafo met at their eventual shared workplace, The Sojourner, a research vessel owned by the Blue Planet Marine Research Foundation.
The opening and closing tracks of Wish You Were Here comprise a nine-part composition called Shine On You Crazy Diamond, written about and dedicated to Syd Barrett, a former Pink Floyd member who was asked to leave the band due to mental health issues.
Follow Jafo on Twitter at @mrshettler1.
Up next… I'm Not Dead by P!nk
Jafo also randomly selected our next Jukebox episode, Yoshimi Battles the Pink Robots by The Flaming Lips, submitted by Paul Zawacki, scheduled to drop on August 5, 2022.
Jingles are by our friend Pete Coe.
Follow Barry or Abigail on Untappd to see what we're drinking when we're not on mic!
Facebook | Instagram | Twitter | YouTube | Website | Email us | Virtual Jukebox
--- Send in a voice message: https://podcasters.spotify.com/pod/show/pops-on-hops-podcast/message