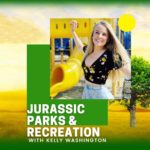 Welcome to a very special episode of The Wait For It Podcast! @PhilTheFilipino had the pleasure of speaking with Kelly Washington, who you may know from her recurring role as Allison Gliffert, or little Leslie Knope, in Parks & Recreation! Phil & Kelly discuss all sorts of things such as her time on the show, her brief appearance in Jurassic World, as well as TONS of Disney related topics. Don't forget to check out Kelly's podcast, Slice of Disney, a show dedicated to all things Disney Theme Parks!

Kelly's Links: Instagram | Twitter | IMDB | Slice of Disney Podcast | Unchained Threads

🔻[*AFFILIATE LINKS BELOW*] - Depending on your streaming app, links may be distorted in text. If so, you can find this episode on our main site at > waitforitpodcast.buzzsprout.com <🔺

🔻This episode was recorded on SquadCast - if you need somewhere to record, consider using our referral link: > https://squadcast.fm/?ref=waitforitpod <🔺

🔻Want to skip the lines for your next grocery trip? Use our referral link for Instacart to get free delivery on your first order over $35 and to support our show: > https://instacart.oloiyb.net/emZ9O <🔺

🔻
"Sarah Jansen - Far Away" is under a Creative Commons (cc-by) license
Music promoted by BreakingCopyright: https://youtu.be/gkmG6fHWGH8🔺
Instacart - Groceries delivered in as little as 1 hour.
Free delivery on your first order over $35.
Disclaimer: This post contains affiliate links. If you make a purchase, I may receive a commission at no extra cost to you.