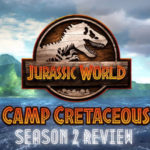 @MrEricAlmighty and @PhiltheFilipino were surprised to hear that Jurassic World: Camp Cretaceous Season 2 was coming back to Netflix only a few months after the release of Season 1, and we took on the task to binge-watch it over the weekend so we could bring you this full review about the show! The first half of the episode will be spoiler free and then we jump into our spoiler discussion about the second season.

Want more Jurassic Park content? You might have missed when we had A Jurassic Discussion with Clever Fangirl! -OR- when we talked Jurassic Parks & Recreation with Kelly Washington! Haven't seen Season 1 yet? Go check out our episode back in September 2020, where we discuss whether you should Stream It or Skip It, and then come back to finish this review!

🔻[*AFFILIATE LINK BELOW*] - Depending on your streaming app, links may be distorted in text. If so, you can find this episode on our main site at > waitforitpodcast.buzzsprout.com <🔺

🔻Want to skip the lines for your next grocery trip? Use our referral link for Instacart to get free delivery on your first order over $35 and to support our show: > https://instacart.oloiyb.net/emZ9O <🔺

🔻BACKGROUND MUSIC PROVIDED BY: Ocean by KV https://soundcloud.com/kvmusicprod  Free Download / Stream: http://bit.ly/2OCvpHU Music promoted by Audio Library https://youtu.be/a8ctDtA7OK8 — Creative Commons — Attribution 3.0 Unported  — CC BY 3.0 🔺 


Instacart - Groceries delivered in as little as 1 hour.
Free delivery on your first order over $35.
Disclaimer: This post contains affiliate links. If you make a purchase, I may receive a commission at no extra cost to you.