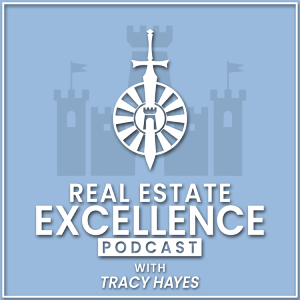 Succeeding as a real estate agent in today's world requires modern and innovative strategies, but most agents are only taught outdated and efficient tactics. Luckily, Krista Mashore is joining us today to reveal exactly what the modern real estate agent needs to do to compete at the highest level.
Krista Mashore is an award-winning author of multiple books about mindset, self-development, and sales, as well as a high-level educator, content creator, social media personality, and top-performing real estate agent. As one of the most sought-after coaches in the business, she shares her knowledge and success, and she's doing exactly that in this incredible episode of Real Estate Excellence.
Tune in and listen to this incredibly valuable conversation about marketing, real estate and personal development. 
[00:00 - 06:37] Learning How to Serve and Not Sell With Krista Mashore
• Introducing Krista Mashore, a top-performing agent, and social media personality.
• Krista shares some of the principles that have led her to real estate success.
• Become an expert marketer by adding value and education.
• Produce content on a consistent basis to stay top of mind.
• Build a one-sided relationship with viewers by being authentic and adding value.
• Post every day to increase reach and impact.
• Do what you love, and people will love what you do.
• Krista talks about why failure is better than regret.
[06:37 - 13:27] How Mindset Became More Important Than Having a Skillset
• Krista left her full-time teaching job to take care of her daughter and got into real estate by default-
• She sold 69 homes in her first year and focused on sellers afterward.
• Krista also wrote a book called "Stop Snap and Switch" about training the brain for success.
• As an avid learner, she spent over a million dollars on professionals and coaches.
• She realized mindset is more important than skillset for success.
[13:27 - 20:13] Tips for Positioning Yourself Differently to Become a Top Agent
• Real estate agents can make a lot of money if they take the time to master their craft and not just be a commodity.
• Krista invested money in marketing herself. She did things others in the industry weren't doing and marketed on movie theaters, television, etc.
• When the market switched in 2008, she had to become a top marketer and treat every listing like it was a million-dollar listing.
• Agents should position themselves differently than others and add value to become authorities in their fields. 
[20:13 - 26:59] How to Become a Community Market Leader in Any Neighborhood
• Krista wrote multiple books on short sales and foreclosures and sent packages to asset management companies and banks.
• When she started becoming successful by sending out packages with business plans, certifications, a team of contractors, and money for repairs until she landed her first foreclosure account.
• She suggests agents become community market leaders in their neighborhood by creating content about it, doing monthly market updates, and setting up funnels with videos.
[26:59 - 33:38] Dominating Your Industry with Funnels
• Become the community market leader by adding value and educating people.
• Use digital tools such as Zoom, Loom, and QR codes to reach out to potential buyers/sellers.
• Create content such as monthly market updates and videos of local restaurants.
• Utilize funnels to drive traffic to specific pages and track how serious a person is.
• Use Facebook ads to target sellers by speaking to their problems.
[33:38 - 40:03] How To Market Your Home and Yourself with Digital Open Houses
• Give people something to educate them before asking for contact information.
• Position yourself as the authority to win before walking through the door.
• Spend around $250-$300 a month on Facebook ads.
• Create content to compare your marketing with Zillow.
• Krista explains why open houses are ineffective and dangerous.
[40:04 - 46:45] Instilling Confidence in Your Clients
• 98% of buyers start their home search online, so you should target buyers there.
• Use an Ads Manager account to target specific communities.
• Retarget people who have watched the video.
• Use a Special Ad Audience to target people who can actually buy a house.
• Create an outgoing call for agents with a training video.
• Identify problems in the market and create videos that address them.
[46:46 - 53:39] Invest in Yourself and Reach Success
• Investing in personal development and education is a great hedge against inflation and recession.
• Krista has invested over $1,165,000 in the past 5 years and 4 months to become an expert in her craft.
• She also offers a 3-day virtual event to teach agents how to create content, position it properly, and build a strategy.
• She recommends spending at least 3% of your income on personal development and education.
[53:39 - 55:02] The Power of Community in Real Estate
• People in real estate are afraid to share their secrets.
• Real estate agents are not taught how to be a real estate agent or market.
• Agents like Krista succeed by building communities where people cooperate and gain value from each other.
Quotes:
"Failure is better than regret" - Krista Mashore
"Mindset is more important than skillset." - Krista Mashore
"It's hard until it's not. In the beginning, when you're learning something, it will be difficult. Take more time, but then you can do it." - Krista Mashore
"The best hedge against inflation and a recession is investing in your own education, your own knowledge. Because no one can take that from you." - Krista Mashore
To make contact with Krista, keep up with her new projects, and make her a part of your own business network, make sure to follow her on social media and visit her business website.
Unstoppable Agent business website: https://unstoppable.kristamashore.com/realestate
Twitter: https://twitter.com/CoachingKrista
YouTube: https://www.youtube.com/channel/UCRxGI0rigYqkRe27pUVNjQw
If you want to build your business and become more discoverable online, Streamlined Media has you covered. Check out how they can help you build an evergreen revenue generator all 
powered by content creation!
SUBSCRIBE & LEAVE A 5-STAR REVIEW as we discuss real estate excellence with the best of the best.