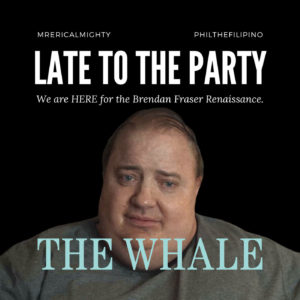 Because we have consumed A LOT of content over the years, there are many pieces of media that we missed, or just never ended up on our radar. That is what inspired our newest series....Late To The Party! For this episode, we talk about The Whale, where we witnessed Brendan Fraser make a career comeback to snag an Oscar for Best Actor.

IMDB Synopsis: A reclusive, morbidly obese English teacher attempts to reconnect with his estranged teenage daughter.


🔻You can find all important links for the podcast over at https://linktr.ee/waitforitpodcast (which includes our brand new Patreon site!)
🔺

🔻BACKGROUND MUSIC PROVIDED BY:
Music track: Marshmallow by Lukrembo
Source: https://freetouse.com/music/
Free Background Music for Video
🔺
Suuuper Anime
The Suuuper Anime Podcast is a show that looks to entertain, inspire and inform you...
Listen on: Apple Podcasts Spotify
Support the show