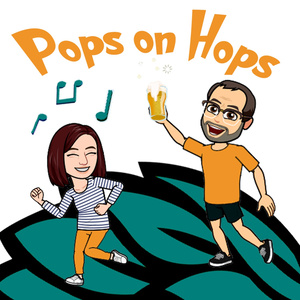 Barry and Abigail discuss Eye to the Telescope by KT Tunstall and sample Respect the Escalator, All Tea, All Shade, Tony Bag O' Donuts, and Barrel-Aged Coquito (Pistachio) from J. Wakefield Brewing in Miami, Florida.
J. Wakefield Brewing is in the Wynwood district of Miami, known for Wynwood Walls.
Johnathan Wakefield, owner of J. Wakefield Brewing, hosts The Beer Hour, described as "the intersection of craft beer + pop culture," on SiriusXM's Business Radio (also available on Spotify or wherever you listen to podcasts).
Aside from Eye to the Telescope, Abigail's only other exploration of KT Tunstall was the song Hold On from her subsequent album Drastic Fantastic.
KT Tunstall headlined Times Square New Year's Eve 2022. You can watch the full broadcast, including two performances by Tunstall, on Facebook.
Read about the contralto voice type.
Black Horse and the Cherry Tree lives in the same space in Abigail's brain as The Switch and the Spur by The Raconteurs.
Suddenly I See was covered on the Song Exploder episode KT Tunstall - Suddenly I See.
Up next… Coconut Telegraph by Jimmy Buffett
Follow Barry or Abigail on Untappd to see what we're drinking when we're not on mic!
Facebook | Instagram | Twitter | YouTube | Website | Email us | Virtual Jukebox
--- Send in a voice message: https://podcasters.spotify.com/pod/show/pops-on-hops-podcast/message