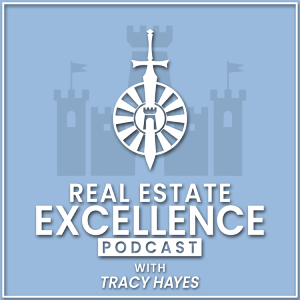 Few people know what it takes to succeed as a realtor, and even fewer people have it. Having been an elementary school teacher for 25 years before jumping into real estate and building a successful business, Lisa Pruitt knows exactly what makes a successful realtor, and she'll be revealing that secret in today's episode.
After a long career as a teacher of gifted kids in Nassau and Saint Johns Counties, Lisa Pruitt saw an opportunity to reach financial independence and fulfill her dreams in the real estate business. For Lisa, being a realtor isn't too different from being a teacher. In both professions, you lead and add value through your knowledge. After 5 years of hard work and learning in the real estate business, Lisa is now an award-winning and top-performing agent in Florida.
Tune in to learn the simple secrets that made Lisa successful, and get ready to apply them to your own life and business. 
[00:00 - 06:56] Lisa Pruitt's Journey from Teaching to Platinum Award Winner
• Lisa Pruitt has a background in education, having taught elementary school for 25 years before becoming an agent.
• She has moved brokerages a couple of times and recently won the Platinum Award at Better Homes and Gardens Real Estate Lifestyle Realty.
• Lisa's teaching experience has helped her in real estate by allowing her to meet clients where they are and communicate effectively with them.
[06:56 - 13:50] The Secrets to Growth and Flexibility in the Market
• Being flexible and willing to grow is important in the real estate business.
• Slowing down and being strategic can lead to better results and more referrals.
• Treating customers with excellent customer service is crucial for success.
• Starting out, the focus was on getting deals, but now it's about building a referral-based business.
[13:50 - 20:52] Staying On Top of Your Game in a Competitive Industry
• Lissa discusses the importance of staying on top of industry changes and competition.
• She emphasizes the need to know every step of the transaction process and surround oneself with reliable title people and lenders.
• Control over the transaction is crucial, and having a strong team of peripheral service providers gives confidence to both the agent and the client.
• Learning the business inside and out is essential for success, as well as being selective about who to work with and refer to.
[20:52 - 28:04] Technology and Communications in a Real Estate Business 
• Personalized approach to CRM worked for real estate agents.
• Database is based on relationships and is relevant to customers.
• Communication includes personalized emails, letters, and phone calls.
• Being genuine and earning trust is important in the industry.
• Agent had to adjust and put herself out there via social media.
• Living outside of your comfort zone leads to growth and evolution.
[28:04 - 34:53] From Teacher to Real Estate Agent: A Journey of Learning and Growth
• Lisa transitioned from teaching to real estate.
• She reached out to her network through phone calls, texts, and social media.
• Lisa's most consistent avenue was social media.
• She sold four homes from open houses in her first year.
• Lisa's interest in real estate stemmed from her love for change and the process of buying and selling homes.
[34:53 - 42:58] Real Estate Agent Shares Tips for Success in the Industry
• Importance of self-education in real estate.
• Need for more training beyond what small brokerages offer.
• Lisa's transition to running her own business and achieving goals.
• Networking and making connections are crucial in the industry.
[42:58 - 49:58] Surrounding Yourself with Like-Minded Professionals
• Agents should learn from successful brokers and top producers.
• Personal development events are important for agents to attend.
• Repetition is key in learning and implementing new strategies.
• It's important for agents to narrow down how they want to run their business.
[49:58 - 56:35] Find Your Business Style, Get Training, and Have a Mentor
• Meditation helps in finding how you want to run your business.
• Find a mentor who runs their business how you want to run yours.
• Top agents are bold, not afraid to try new things, and genuine listeners.
• Ask many questions and prioritize excellent customer service when meeting new clients.
[56:35 - 01:03:08] Setting Expectations: The Key to a Smooth Real Estate Transaction
• Setting expectations in real estate transactions is crucial for a smooth process.
• A buyer's consultation can help first-time buyers understand the steps involved.
• A transaction coordinator can handle the details and clean-up work of a transaction.
• Better Homes and Gardens offers support for the Buffini method, which is valued by Lisa. 
[01:03:08 - 01:09:52] Collaboration Over Competition: Mutual Support for Success
• Collaborative group of agents who think alike and support each other can lead to great success.
• Peer group helps with difficult contracts or structuring offers.
• Agents do VIP client events together to create connections and positive experiences.
• Introducing people to others is a powerful way to influence in the business.
• Marketing and social media are important, but it doesn't come naturally to everyone.
[01:09:52 - 01:17:00] The Importance of Finding the Right Brokerage 
• Selling 8-10 homes a year can still provide a decent living.
• To make six figures, one must apply themselves and work hard.
• It's important for brokers to be transparent about how they run their business.
• Self-motivation is crucial in the real estate industry.
• Changing brokerages is not something to be afraid of as ideologies and leadership can change.
• When clicking with a group, the energy can greatly impact success.
Quotes:
"Everybody learns differently. Everybody communicates differently. everybody is on their own journey. So you have to meet people where they're at, just like in the classroom." - Lisa Pruitt
"If you're not learning, you're not growing. And for me, staying on top of my game, learning what's out there, learning from other top producers, and really just making it work for you, knowing who you are, knowing what you want, setting those goals, and following through." - Lisa Pruitt
"If you're comfortable with what you're doing, you're definitely not growing and changing and evolving."  - Lisa Pruitt
"Boldness, genuine listening, and meeting the needs of the client are crucial traits for a successful real estate agent." - Lisa Pruitt
"If you say you're gonna do something, do it. What's important to me in business and in life is if you say you're gonna do something, do it." - Lisa Pruitt
Follow Lisa on social media and visit her business website to keep up with her upcoming projects, contact her and make her a part of your network:
Lisa's business site: https://listerlisa.com
Twitter: https://twitter.com/Lisapru10211236
Instagram: https://instagram.com/lisapruitt_realtor?igshid=YmMyMTA2M2Y=
Facebook: https://www.facebook.com/lmpruitt
LinkedIn: https://www.linkedin.com/in/lisapruitt/
If you want to build your business and become more discoverable online, Streamlined Media has you covered. Check out how they can help you build an evergreen revenue generator all 
powered by content creation!
SUBSCRIBE & LEAVE A 5-STAR REVIEW as we discuss real estate excellence with the best of the best.