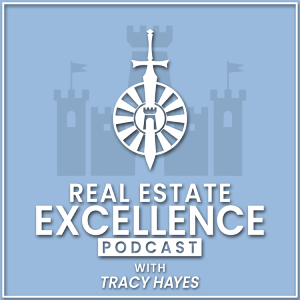 Transitioning from a 9-5 in corporate America to being a real estate agent with financial freedom sounds like a dream come true, but it's much easier said than done. This is exactly what Lisa Sweat achieved, Although her job as an office manager was successful, it did not satisfy her, and that drove her to pursue and attain a successful career as a realtor.
Lisa Sweat was born in Clay County and found her first office job at 19 years old, working for a reputed bank. Although she made herself a successful career by going from a sales representative to an office manager in multiple industries in corporate America, her desire for independence drew her to the real estate business, where she started as a transaction coordinator and grew to become a widely successful realtor.
Join us to listen to this amazing success story, and learn the secrets to transitioning from a stable job to achieving the dream of financial independence in real estate. 
[00:00 - 07:44] Lisa Sweat of Florida Homes Realty Shares Her Success Story
• Lisa is a superstar real estate agent with over 40+ transactions in 2022.
• Lisa's slogan is "Sweat Makes Dreams Happen."
• Lisa grew up in Clay County, Florida, with a single mom who was an entrepreneur.
• Lisa started her career working in customer service at a reputable bank, where she received extensive training and learned many valuable skills.
[07:45 - 15:09] Community Service and Office Management
• Community service was mandatory for job retention at the bank where Lisa first worked.
• Corporate training at Lisa's first jobs was highly structured and invested in employees.
• Sales goals were a big part of banking jobs, which could be stressful but prepared Lisa for high-pressure work. 
• Lisa worked as an office manager for companies in multiple industries, including a taser-selling company and an electrical contractor.
[15:09 - 22:17] From Banking and Office Management to Real Estate
• Lisa transitioned from banking to real estate because changes in her employer's work culture due to mergers made her want to work for herself.
• She says having reserves in the bank is important for new agents because the first sale is always hard to get. 
• The skills learned by Lisa in her corporate jobs gave her an advantage when entering the real estate industry.
[22:17 - 28:55] Lisa's Success Story as a Real Estate Transaction Coordinator
• Being a transaction coordinator or assistant is a good entry point for new agents in real estate.
• Confidence and attitude are key factors in succeeding as an agent.
• Selecting the right brokerage that fits your mindset and ideology is crucial for success.
• Having a supportive staff is important for agents to succeed.
[28:55 - 36:03] Finding Success in a Rural Market
• New agents need to be self-starters and not depend on others for leads
• Lisa's first transactions came from open houses and land sales.
• She went after the niche of selling raw land because other agents didn't want to deal with it.
• Selling raw land requires educating buyers on the development process, and this can be a lengthy endeavor.
[36:03 - 43:02] The Realities of Building a Home: Time and Money Constraints 
• Building a home is costly and time-consuming.
• Many first-time homebuyers lack knowledge about home systems.
• Mentorship and peer support are important for new real estate agents.
• Collaborative agents are willing to help and answer questions.
• Listening to motivational podcasts can help start the day.
[43:02 - 50:42] Tips on Structuring One's Schedule for Success
• Time blocking is important for structuring one's day and prepping one's week.
• You need to follow up with past clients and new leads regularly.
• Personal tasks need to be built into one's calendar for flexibility.
• Listings are like traps that attract potential buyers.
• Regular contact with past clients is important as life changes frequently.
[50:42 - 57:59] Focusing on One's Neighborhood and Treating Other Agents with Respect
• Lisa does door-knocking and stands outside to attract potential clients.
• She focuses on her own neighborhood and nearby areas where she knows the market well.
• She uses a sign in her yard to advertise herself as a realtor and notary, which has attracted attention.
• She charges for her notary services and also performs weddings.
• She believes in treating other agents with respect and reciprocity for a successful transaction.
[57:59 - 01:04:49] Common Friction Points in Home Buying and Selling 
• Lack of transparency and communication can cause friction among real estate agents. 
• It's important for agents to do their due diligence to make the process as smooth as possible. 
• The real estate industry slowdown is leading to agents seeking other jobs.
• Agents need to find creative ways to sell homes to succeed.
[01:04:49 - 01:11:54] The Importance of Pricing and Staging in Real Estate Sales
• Staging and decluttering a home is crucial for selling, as is setting the correct price.
• Consistent marketing through creative methods such as postcards can be great for farming neighborhoods. 
• Constant education to keep up with changing market trends is important.
• Networking with other agents can lead to valuable connections and friendships.
[01:11:54 - 01:18:49] The Importance of Communication and Collaboration 
• Importance of networking and referrals in real estate.
• Treating others right and working together to close deals is essential for agents to succeed.
• Setting expectations with buyers regarding home inspections and potential issues is important.
[01:18:49 - 01:25:40] Home Inspections and Affordable Housing in Rural Areas
• Savvy investors are buying up rural properties for future appreciation, though it's important to have a proper home inspection in older rural homes. 
• Covid has led to increased demand for homes in rural areas.
• Expressways and infrastructure improvements are making rural areas more accessible.
Quotes:
"Dress for the position you aspire to." - Lisa Sweat
"You cannot know something unless you experience it. You cannot sell a product unless you know what it does." - Lisa Sweat
"I can teach you how to do anything and sell anything, but I cannot teach you attitude and you cannot sell anything if you don't have the right attitude." - Lisa Sweat
"You have to be a self-starter. You can't depend on somebody to give you something. It's not going to work. You gotta do it yourself." - Lisa Sweat
To keep up with Lisa Sweat's upcoming projects and career milestones, contact her and make her a part of your business network, make sure to follow her on social media and visit her business website.
Lisa Sweat's business website: https://www.lisasweatyourfhrm.com/
Facebook: https://www.facebook.com/Lisa.Sweat.Realtor/
LinkedIn: https://www.linkedin.com/in/lisa-sweat-bb8b736/
If you want to build your business and become more discoverable online, Streamlined Media has you covered. Check out how they can help you build an evergreen revenue generator all 
powered by content creation!
SUBSCRIBE & LEAVE A 5-STAR REVIEW as we discuss real estate excellence with the best of the best.