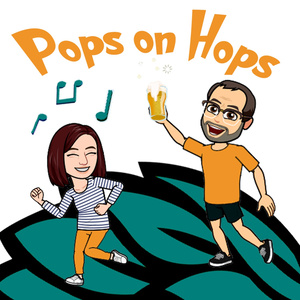 Barry and Abigail discuss Little Creatures by Talking Heads and sample Splash Pad, Sour Slurps Disco Future, Snake Jazz, and Ninja Juice from Invasive Species Brewing in Fort Lauderdale, Florida.
Abigail recalled seeing David Byrne at the Hollywood Bowl as part of KCRW's World Music Festival. Read this review of show's premiere on June 26, 2005, featuring David Byrne, Arcade Fire, Si*Sé, and the Extra Action Marching Band.
Abigail feels that this album "lives in the same space" in her head as Business as Usual by Men at Work, which we previously reviewed in #10: Drinking as Usual.
Barry thought that Television Man told a story similar to Being There starring Peter Sellers, based on a Jerzy Kosiński novel.
Abigail thought the gospel choir used to open Road to Nowhere was similar to the a cappella opening of Diamonds on the Soles of Her Shoes by Paul Simon.
The "Anosmia" jingle was performed by our friend Pete Coe! You can follow this happy noisemaker on Twitter at @petecoevo.
U Talkin' Talking Heads 2 My Talking Head discussed this album in their Little Creatures episode.
Up next… A Fab Four Christmas, Volume. 1 by The Fab Four
Follow Barry or Abigail on Untappd to see what we're drinking when we're not on mic!
Facebook | Instagram | Twitter | YouTube | Website | Email us | Virtual Jukebox
--- Send in a voice message: https://podcasters.spotify.com/pod/show/pops-on-hops-podcast/message