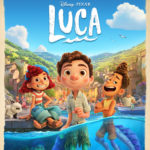 @PhilTheFilipino & @MrEricAlmighty are here to tell you everything you need to know about Disney/Pixar's latest film, Luca! Luca was released directly to Disney Plus without any additional price point, but is it worth your time? We have you covered, and all you have to do...is Wait For It!

Synopsis: Set in a beautiful seaside town on the Italian Riviera, the original animated feature is a coming-of-age story about one young boy experiencing an unforgettable summer filled with gelato, pasta and endless scooter rides. Luca shares these adventures with his newfound best friend, but all the fun is threatened by a deeply-held secret: he is a sea monster from another world just below the water's surface.

🔻[*AFFILIATE LINK BELOW*] - Depending on your streaming app, links may be distorted in text. If so, you can find this episode on our main site at > waitforitpodcast.buzzsprout.com <🔺

🔻Want to start podcasting? Use our referral link to Buzzsprout for a $20 Amazon Gift Card and to support our show: https://www.buzzsprout.com/?referrer_id=872095🔺

🔻BACKGROUND MUSIC PROVIDED BY:
Ocean by KV https://youtube.com/c/KVmusicprod​
Creative Commons — Attribution 3.0 Unported  — CC BY 3.0
Free Download / Stream: http://bit.ly/2OCvpHU​
Music promoted by Audio Library https://youtu.be/a8ctDtA7OK8
🔺
Buzzsprout - Let's get your podcast launched!
Start for FREE
Disclaimer: This post contains affiliate links. If you make a purchase, I may receive a commission at no extra cost to you.