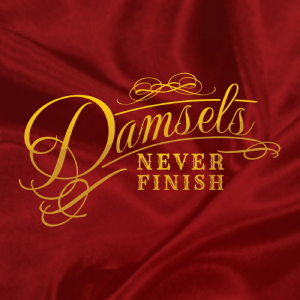 Happy holidays! We decided to gift you all our review of a VERY SPICY holiday-themed romance novella, by Molly Doyle picked by our damsel, Kat. DISCLAIMER: This is a dark romance and there may be discussions or mentions of uncomfortable themes not suitable for listeners.

We follow Quinn as she gets wrapped up in the Holiday spirit by her 3 captivating boes. Spending Christmas in a secluded snow-covered cabin in the woods with 3 men who are definitely on Santa's naughty list, sounds like the perfect way to spend the holidays. Jensen, Micah, and Damien aka Ghost are the gifts that keep on giving, as they help Quinn confront the darkness she's been holding in, through non-stop pleasure and some pain. But as they reveal an even darker side of themselves and blood is shed, will their true selves be too much for Quinn to handle? Warning! This dark romance is a whole lot of naughty with a bit of nice that will take you on a rollercoaster of emotions, and keep you hot and bothered (in the best way) for those cold winter nights. 
Please rate and leave a comment.
You can follow us: @damselsneverfinish on Instagram, @damselsneverfin on Twitter, or join our Facebook Group

For all other inquiries, please email us at [email protected]. And as always, happy reading.