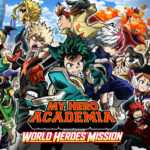 @PhilTheFilipino & @MrEricAlmighty bring you another My Hero Academia review, but this time, it's about our thoughts on the 3rd anime movie from the franchise: World Heroes Mission. We go into our spoiler-free thoughts to start the episode before diving into a full spoiler discussion. Is the 3rd time the charm for this franchise on the big screen? Give this episode a listen to find out!

Want some more MHA content to binge? Check out one of our most popular episodes where we reviewed MHA Heroes Rising, or get caught up on some of our latest episodes, where we talked about our thoughts on the Joint Training Arc and My Villain Academia Arc from Season 5 of the anime!

Make sure to also check out The Wait For It Podcast YouTube Page!

🔻[*AFFILIATE LINK BELOW*] - Depending on your streaming app, links may be distorted in text. If so, you can find this episode on our main site at > waitforitpodcast.buzzsprout.com <🔺

🔻Want to start podcasting? Use our referral link to Buzzsprout for a $20 Amazon Gift Card and to support our show: https://www.buzzsprout.com/?referrer_id=872095🔺

🔻BACKGROUND MUSIC PROVIDED BY: Artist - PeriTune / Song - Hanagoyomi Social links: peritune.com https://soundcloud.com/sei_peridot Mp3 Download: peritune.com/hanagoyomi/ 🔺 


Buzzsprout - Let's get your podcast launched!
Start for FREE
Disclaimer: This post contains affiliate links. If you make a purchase, I may receive a commission at no extra cost to you.