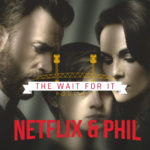 @PhilTheFilipino is back with his series titled, "Netflix & Phil"! For these episode, Phil recommends different shows that you'll find on streaming sites like Netflx, Hulu, Amazon Prime, or Disney+, or in this case, Apple TV! For today's episode, we brought in friend of the show, Kire VZ to help discuss the Apple TV Drama, Defending Jacob. There is so much to breakdown in this episode that we actually went into a full spoiler discussion in the second half of the episode. Don't worry, we'll give you ample time to stop the episode before we get into any spoilers!

"An assistant DA's world is shattered when his beloved son gets charged with murder. Andy Barber has been an assistant district attorney in his suburban Massachusetts county for more than twenty years. He is respected in his community, tenacious in the courtroom, and happy at home with his wife, Laurie, and son, Jacob."

🔻[*AFFILIATE LINKS BELOW*] - Depending on your streaming app, links may be distorted in text. If so, you can find this episode on our main site at waitforitpodcast.buzzsprout.com🔺

🔻This episode was recorded on SquadCast - if you need somewhere to record, consider using our referral link: https://squadcast.fm/?ref=waitforitpod🔺

🔻Want to start podcasting? Use our referral link to Buzzsprout for a $20 Amazon Gift Card and to support our show: https://www.buzzsprout.com/?referrer_id=872095🔺

🔻BACKGROUND MUSIC PROVIDED BY: Music Credit: Chris Morrow 4 Track Name: "Hip Hop Rap Instrumental - Crying Over You"  - Music By: Chris Morrow 4 @ https://soundcloud.com/Chris-morrow-3 
Include a link to the artists original content, HERE - https://soundcloud.com/chris-morrow-3... License for commercial use: Creative Commons Attribution 3.0 Unported (CC BY 3.0) https://creativecommons.org/licenses/... Music promoted by NCM https://goo.gl/fh3rEJ🔺
Buzzsprout - Let's get your podcast launched!
Start for FREE
Disclaimer: This post contains affiliate links. If you make a purchase, I may receive a commission at no extra cost to you.