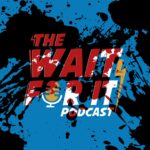 @PhilTheFilipino is back with his series titled, "Netflix & Phil"! For these episodes, Phil recommends different shows that you'll find on streaming sites like Netflix, Hulu, or in this case, Amazon Prime! For this month's episode, he discusses the highly talked about animated series, Invincible! This show has garnered a TON of hype over the last few weeks & Phil lets you know why it's more than worth your time. of course, this episode is Spoiler Free. BUT if you want to see Phil go live on our YouTube page with some other podcasters/content creators and do a full spoiler deep dive, reach out to him directly on social media @PhilTheFilipino (IG/Twitter), OR reach out to the show on Twitter (@WaitForItPod) or on IG (@WaitForItPodcast) and send us the hasthag #WaitForItInvincible!!! 

Synopsis: Invincible is an adult animated superhero show that revolves around Mark Grayson, a normal teenager except for the fact that his father is the most powerful superhero on the planet. Shortly after his seventeenth birthday, Mark begins to develop powers of his own and enters into his father's tutelage.

Check out the Wait For It Podcast YouTube Page: The Wait For It Podcast

🔻[*AFFILIATE LINKS BELOW*] - Depending on your streaming app, links may be distorted in text. If so, you can find this episode on our main site at waitforitpodcast.buzzsprout.com🔺

🔻Want to skip the lines for your next grocery trip? Use our referral link for Instacart to get free delivery on your first order over $35 and to support our show: > https://instacart.oloiyb.net/emZ9O 🔺

🔻BACKGROUND MUSIC PROVIDED BY: Music Credit: Chris Morrow 4 Track Name: "Hip Hop Rap Instrumental - Crying Over You"  - Music By: Chris Morrow 4 @ https://soundcloud.com/Chris-morrow-3 
Include a link to the artists original content, HERE - https://soundcloud.com/chris-morrow-3... License for commercial use: Creative Commons Attribution 3.0 Unported (CC BY 3.0) https://creativecommons.org/licenses/... Music promoted by NCM https://goo.gl/fh3rEJ🔺
Instacart - Groceries delivered in as little as 1 hour.
Free delivery on your first order over $35.
Disclaimer: This post contains affiliate links. If you make a purchase, I may receive a commission at no extra cost to you.