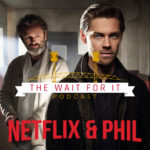 @PhilTheFilipino is here with a brand new series titled, "Netflix & Phil"! They're similar to the anime episodes @MrEricAlmighty drops on Wednesdays, but instead will focus on shows that are available on Netflix, Hulu, or any of the other many streaming sites to choose from. This week he discusses the new Fox crime drama, Prodigal Son. The series centers on Malcolm Bright, whose father, Martin Whitly, is the infamous serial killer known as "The Surgeon". Bright takes a job with the NYPD as an advisor after he learns that a copycat is mimicking his father's killings. Is it worth your time? Let's Netflix & Phil!

BACKGROUND MUSIC PROVIDED BY: 
🔻
Music Credit: Chris Morrow 4 Track Name: "Hip Hop Rap Instrumental - Crying Over You"  
Music By: Chris Morrow 4 @ https://soundcloud.com/chris-morrow-3 
Include a link to the artists original content, HERE - https://soundcloud.com/chris-morrow-3... 
License for commercial use: Creative Commons Attribution 3.0 Unported (CC BY 3.0) https://creativecommons.org/licenses/... 
Music promoted by NCM https://goo.gl/fh3rEJ 
🔺

[*AFFILIATE INFO BELOW*] - pull up this episode on waitforitpodcast.buzzsprout.com if you are unable to click the link from the platform you are listening on. 


Buzzsprout - Let's get your podcast launched!
Start for FREE
Disclaimer: This post contains affiliate links. If you make a purchase, I may receive a commission at no extra cost to you.