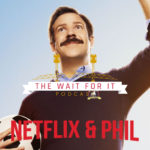 @PhilTheFilipino is back with his series titled, "Netflix & Phil"! For these episode, Phil recommends different shows that you'll find on streaming sites like Netflx, Hulu, Amazon Prime, or Disney+, or in this case, Apple TV! On today's episode he goes into a deep dive on why Ted Lasso is the BEST new show he's watched in years. Ted Lasso is based on a character created for a series of NBC Sports Premiere League soccer promos, Ted Lasso was adapted for TV by star Jason Sudeikis and Scrubs mastermind Bill Lawrence. It's the story of boundlessly enthusiastic American college football coach Ted Lasso (Sudeikis) who, fresh off a Division II championship at Wichita State — home, in real life, to no football team — is hired to lead a generally mediocre Premiere League soccer team, AFC Richmond.

🔻[*AFFILIATE LINKS BELOW*] - Depending on your streaming app, links may be distorted in text. If so, you can find this episode on our main site at waitforitpodcast.buzzsprout.com🔺

🔻This episode was recorded on SquadCast - if you need somewhere to record, consider using our referral link: https://squadcast.fm/?ref=waitforitpod🔺

🔻Want to start podcasting? Use our referral link to Buzzsprout for a $20 Amazon Gift Card and to support our show: https://www.buzzsprout.com/?referrer_id=872095🔺

🔻BACKGROUND MUSIC PROVIDED BY: Music Credit: Chris Morrow 4 Track Name: "Hip Hop Rap Instrumental - Crying Over You"  - Music By: Chris Morrow 4 @ https://soundcloud.com/Chris-morrow-3 
Include a link to the artists original content, HERE - https://soundcloud.com/chris-morrow-3... License for commercial use: Creative Commons Attribution 3.0 Unported (CC BY 3.0) https://creativecommons.org/licenses/... Music promoted by NCM https://goo.gl/fh3rEJ🔺
Buzzsprout - Let's get your podcast launched!
Start for FREE
Disclaimer: This post contains affiliate links. If you make a purchase, I may receive a commission at no extra cost to you.