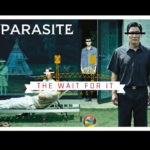 @MrEricAlmighty and @PhiltheFilipino come together this Wait For It Wednesday to discuss an Oscar Winning film that has recently been made available on Hulu. Despite winning Best Director, Best Original Screenplay, Best Foreign Language Film, AND Best Picture in 2019.....it feels like a lot of people have still not seen the movie called Parasite. We have to break this movie down (SPOILER FREE) into four categories, and give our overall grades. The results may shock you!

🔻BACKGROUND MUSIC PROVIDED BY: Ocean by KV https://soundcloud.com/kvmusicprod  Free Download / Stream: http://bit.ly/2OCvpHU Music promoted by Audio Library https://youtu.be/a8ctDtA7OK8 — Creative Commons — Attribution 3.0 Unported  — CC BY 3.0 🔺 
Buzzsprout - Let's get your podcast launched!
Start for FREE
Disclaimer: This post contains affiliate links. If you make a purchase, I may receive a commission at no extra cost to you.