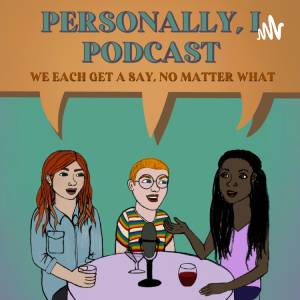 The podcast you are about to enjoy contains explicit content
Listener Discretion is advised.
In this episode of Personally I... the podcast,
The hosts of, the show, were filled with opinions that no one asked for, once again!
Brittany, Kaela, and Adra will continue their Cancel Culture Series with, canceled terms and phrases.
Starting off with introductions, you will experience a nice spritzer of sweet and sour personalities that lead you to the Mixed Drinks section where we discuss our cocktail for the episode and what in our lives at the moment needs "washing down". Thankfully, Simply Recipes shared their delicious Piña Colada recipe on the web (listed below) for any pineapple lover to discover and we could not pass up such a scrumptious and fruity beverage.
After sipping our way through getting caught in the rain, we ease into the "Hard To Swallow" segment where we discuss topics that may cause some discomfort but ultimately make us better individuals for having them.
In this episode, we continue our Cancel Culture series with a conversation about canceled phrases, slurs, or controversial and offensive words, and labels.
We close with our Palate Cleanser, a light-hearted finale to each episode. This time around we are ending with a tale that will hopefully make you laugh or smile or roll your eyes...
The only way to find out is to give us a listen.
Simply Recipes:
"Ingredients
6 ounces of white rum
6 ounces of cream of coconut
6 ounces of pineapple juice
1/2 cup of frozen pineapple chunks
4 cups of ice
4 ounces of golden or añejo rum
Pineapple leaves or wedges for garnish, optional"
Piña Colada Recipe {Easy Blender Version!} (simplyrecipes.com)
Etymology Source: etymology | Etymology, origin and meaning of etymology by etymonline