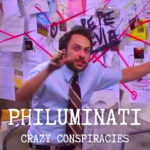 Welcome back to a brand new episode of PHIL-uminati. A series in which @PhilTheFilipino takes a look at some of the most popular conspiracy theories out there. But this month, we decided to go a bit lighter & have some fun. Phil brought back friend of the show, Landon (aka NightHaus), to discuss the lighter side of conspiracies. What type of bat-shit crazy theories did they come across? Listen in to find out!

Please head over and support what Landon has going on over at Twitch TV: NightHaus

🔻[*AFFILIATE LINKS BELOW*] - Depending on your streaming app, links may be distorted in text. If so, you can find this episode on our main site at > waitforitpodcast.buzzsprout.com <🔺

🔻Want to skip the lines for your next grocery trip? Use our referral link for Instacart to get free delivery on your first order over $35 and to support our show: > https://instacart.oloiyb.net/emZ9O <🔺

🔻BACKGROUND MUSIC PROVIDED BY:
Fly by Free Vibes: https://goo.gl/NkGhTg
🔺
Instacart - Groceries delivered in as little as 1 hour.
Free delivery on your first order over $35.
Disclaimer: This post contains affiliate links. If you make a purchase, I may receive a commission at no extra cost to you.