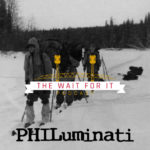 @PhilTheFilipino returns with friend of the show, Amaris Riddle, to bring you all a brand new episode of PHILuminati. This week we bring you the mysterious story of The Dyatlov Pass, an incident in which nine Russian hikers died in the northern Ural Mountains in February of 1959, under uncertain circumstances. We go over the basics of the story, along with some of the more popular theories regarding what possibly could have happened during that fateful hike.

My Riddle Kitchen: Hi! I'm Amaris, a Dallas-based girl living out her dream of being a professional chef. I proudly run Sugar Fang Vegan Bakery, and create vegan menu items for BrainDead Brewing, both located in Deep Ellum, Texas. When I'm not at the bakery I'm making a mess crafting recipes in my kitchen at home. I hope you enjoy my traditional recipes made vegan!

🔻[*AFFILIATE LINKS BELOW*] - Depending on your streaming app, links may be distorted in text. If so, you can find this episode on our main site at > waitforitpodcast.buzzsprout.com <🔺

🔻This episode was recorded on SquadCast - if you need somewhere to record, consider using our referral link: > https://squadcast.fm/?ref=waitforitpod <🔺

🔻Want to start podcasting? Use our referral link to Buzzsprout for a $20 Amazon Gift Card and to support our show: > https://www.buzzsprout.com/?referrer_id=872095 <🔺

🔻BACKGROUND MUSIC PROVIDED BY:
Check out the full pack at:
https://www.gravitysound.studio/shop-...
Use this track "Wave" for free, written and produced by Gravity Sound.
https://www.youtube.com/watch?v=MI8M-gPF02k
🔺
Buzzsprout - Let's get your podcast launched!
Start for FREE
Disclaimer: This post contains affiliate links. If you make a purchase, I may receive a commission at no extra cost to you.