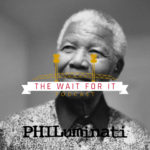 @PhilTheFilipino returns with friend of the show, Amaris Riddle from the Riddle'd With Nightmares Podcast, to bring you all a brand new episode of PHILuminati! This week we discuss the phenomenon of The Mandela Effect. The Mandela Effect refers to a situation in which a large mass of people believes that an event occurred when it did not. Looking at the origin of the Mandela effect, some famous examples, as well as some potential explanations for this strange confluence of perceptions can help to shed light on this unique phenomenon. So what do Phil & Amaris think about it? Tune in to find out & have your mind blown!

Riddle'd With Nightmares | My Riddle Kitchen

🔻[*AFFILIATE LINKS BELOW*] - Depending on your streaming app, links may be distorted in text. If so, you can find this episode on our main site at > waitforitpodcast.buzzsprout.com <🔺

🔻This episode was recorded on SquadCast - if you need somewhere to record, consider using our referral link: > https://squadcast.fm/?ref=waitforitpod <🔺

🔻Want to start podcasting? Use our referral link to Buzzsprout for a $20 Amazon Gift Card and to support our show: > https://www.buzzsprout.com/?referrer_id=872095 <🔺

🔻BACKGROUND MUSIC PROVIDED BY:
Check out the full pack at:
https://www.gravitysound.studio/shop-...
Use this track "Wave" for free, written and produced by Gravity Sound.
https://www.youtube.com/watch?v=MI8M-gPF02k
🔺
Buzzsprout - Let's get your podcast launched!
Start for FREE
Disclaimer: This post contains affiliate links. If you make a purchase, I may receive a commission at no extra cost to you.