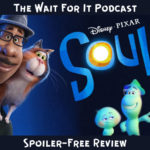 @MrEricAlmighty and @PhilTheFilipino get together the day after Christmas to give our spoiler free thoughts about Soul on Disney+! The film follows our main character Joe, a middle-school band teacher whose life hasn't quite gone the way he expected. His true passion is jazz, and he's good. But when he travels to another realm to help someone find their passion, he soon discovers what it means to have soul. Did the movie help end this unforgettable year with a bang, or was 2020 too much for even Disney to leave a bright spot? We'll tell you everything you need to know!

Looking for more from us? Subscribe to our YouTube channel to check out our livestream review of WW84 and for more video content in 2021!
🔻[*AFFILIATE LINK BELOW*] - Depending on your streaming app, links may be distorted in text. If so, you can find this episode on our main site at > waitforitpodcast.buzzsprout.com <🔺

🔻Want to skip the lines for your next grocery trip? Use our referral link for Instacart to get free delivery on your first order over $35 and to support our show: > https://instacart.oloiyb.net/emZ9O <🔺

🔻Good Morning by TazLazuli: > https://soundcloud.com/tazlazuli/good... < Attribution 3.0 Unported (CC BY 3.0) >https://creativecommons.org/licenses/... <Music provided by Free Vibes: > https://goo.gl/NkGhTg <🔺
Instacart - Groceries delivered in as little as 1 hour.
Free delivery on your first order over $35.
Disclaimer: This post contains affiliate links. If you make a purchase, I may receive a commission at no extra cost to you.